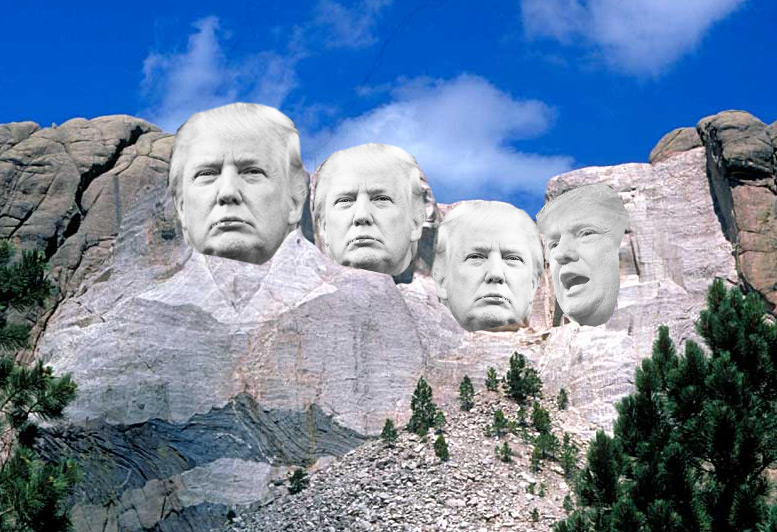 Ten years ago, I made a prediction.
I told my students that, within their lifetime--maybe mine, one of the two major parties would nominate a reality TV star to become president of the United States. I wasn't joking, and I didn't have anyone particular in mind. I never dreamed it would happen so quickly.
Since the Indiana primary yesterday, Donald Trump has become the presumptive Republican nominee and now there is no getting around it. Donald Trump, who never has held any office or public trust under the United States or any state government, whose greatest fame is for insulting people and otherwise making sure we all know who he is, now stands poised to join the ranks of Washington, Jefferson, Roosevelt, and Lincoln.
I made my prediction ten years ago off-the cuff, and I'm not quite sure why I remember making it. But I do remember why I made it.
In my introduction to American government, my regular theme is how much Americans have lost what I only can call their civic pride. We no longer respect the sacredness of politics for what it is, our shared effort as a community to solve the problems together that no one can solve individually. Politics is our common life and our common effort to build something together that is good and that lasts. As Edmund Burke told us, it is a contract "between those who are living, those who are dead, and those who are to be born" to work together toward something greater than ourselves, more than can be accomplished in any human lifetime. We express those hopes and do that work through government.
Despite the separation of church and state, politics and government are a kind of holy work. We should think of them that way. Our founders did.
Yet, that is not how Americans think about government or politics any longer. Americans today (if the people I meet are any guide) no longer seem willing to appreciate politics or government. The social forces that explain it are complex. We have heard too many times that, "
Government is the problem
," and our use of the word "politics" expresses our disdain for special interests wherever they may be found (always overlooking that each of us has his own special interests, too).
David Brooks had
an unusually good column
in the
New York Times
around the time I made my prediction, observing that our age is one where we "see politics as a competition for recognition." We enter the community only to express our own self-regard, press our own interests. He also wrote that people are driven "to rage if others don't recognize their worth." That's a good place from which to begin to understand the 2016 presidential race. We do not feel that our interests are recognized. We feel rage.
All along while we have been told government is a problem and our relationship to politics has been distorted and dirtied during these last several decades, tremendous inequalities have crept into American life that have left behind the middle class and the working poor. The mixture of that brew has been toxic, and its effects were not necessarily first most clear in politics.
Over the last two decades, polarization has grown. Political disagreements have become sharp social divisions. It has become casually acceptable to say that some other member of our community does not belong in it because they have the wrong ideas. Gun culture has grown. This became the nation eager to watch the histrionic dramas and ugly take-downs of reality TV. We want to see the brawl on Jerry Springer or the splash of wine in the face because we all know someone who deserves it.
We have become a coarse and vulgar people, each of us self-absorbed so much by our rage at not being recognized that we have stopped participating in politics. This, what we have today, is more like a feeding frenzy. It's not entirely our fault. The social forces, like our political problems, are bigger than any one of us. But it is the inescapable conclusion.
Little surprise that so many of us no longer can tell the difference between politics and a sporting event or a reality TV show. Why should Donald Trump not seem ready to sit in the White House?
Years ago, Tom Wicker wrote a book about Richard Nixon,
One of Us
. Wicker explained the rise of Nixon to the White House in the simplest, most direct way. The American people elected Richard Nixon, chose all that he would do as president, because they recognized themselves in him.
Donald Trump is a vulgar loudmouth, thumping his chest, demanding recognition, making showy insults, and angrily defending his personal greatness against everyone. He is 'one of us.' We are the people who have brought Trump to this moment.
Don't express too much surprise this morning. This all has been not that hard to see coming.